Hello! I'm Brittany – a host mom and Support Services Manager with Agent Au Pair. My husband and I talked about hosting an au pair long before we ever had children. We knew we wanted to host an au pair because we love experiencing new cultures and feel that it is important to expose our children to different cultures as well. 
Our family lives in central Connecticut. We live in a smaller town and public transportation can be difficult to navigate, but we're about halfway between New York City and Boston, giving our au pairs easy access to major cities and unique New England experiences.  We are currently a family of four:  mom, dad, and two children, plus all the pets (four cats and a dog!) We knew that we wanted the caregiver for our children to truly be a member of our family and to be someone that our children could rely on. An important factor in our choice of an au pair was someone who would be a mentor and a stable person for our oldest amidst all of the transitions between the houses.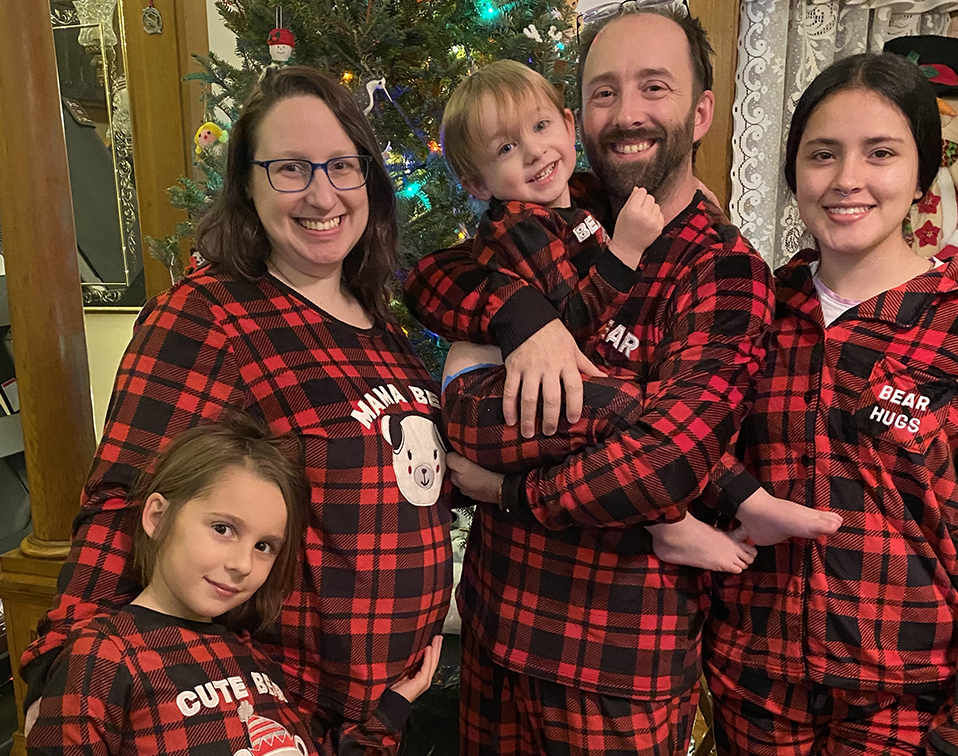 We're a blended family and our oldest daughter (age nine) only spends part of her time with us, transitioning between our home and her other home each week. Our youngest is almost three, and he needed someone who was going to be able to keep up with his energy and have patience with the toddler tantrum stage that we are currently navigating.  We also are adding a newborn into the mix around the end of March! 
Sofia is our second au pair, and we had a wonderful experience with our first.  But from the moment she arrived, Sofia has jumped headfirst into being a member of our family. Even when she is not working, she's jumping in and spending time with the family!
In the past six weeks or so we have already experienced new traditions and food from her home country of Colombia. Before Christmas, Sofia invited us to join her while she video-chatted with her family for Novena of Aguinaldos, a pre-Christmas celebration for the nine nights leading up to Christmas Eve.  The past two weeks Sofia shared two of her favorite dishes from her home country, empanadas and patacona! Our youngest was a little skeptical at first, but he really loved the empanadas!  In turn, I am teaching Sofia one of my favorite pastimes; crochet! She has caught on really quickly and we sometimes spend our evenings together after the kids are in bed chatting and crocheting. My husband and Sofia have also bonded already! They have long conversations about culture and languages. Sofia has also had a chance to visit New York City and Times Square, as well as travel with our family over the holidays. She has even experienced her first snowfall and her first time sledding! 
Join us over the next year as we host our Sofia, welcome a new baby into our home, and face new challenges as a family of 6!