Hello there! I am Hande, the host mom and LC Supervising Manager with Agent Au pair who is also a former au pair!  We have recently decided to have an au pair to help us for our 9 months old baby girl. We decided that we needed an au pair around April of this year and started looking for someone soon after. Many interviews later, we finally felt the 'click' with Camila and sent the 'matching request'. From the moment we picked her up at the airport, it was like reuniting with a family member.
She arrived about 2 weeks ago. We are currently feeling blessed having her around as extra help. As a former au pair, it's very important for me to make her feel welcomed and comfortable. I remember my first day, coming to a new country with a language barrier.  It was scary and overwhelming. However, I had a great host family who welcomed me as their new family member and I want Camilia to feel the same way.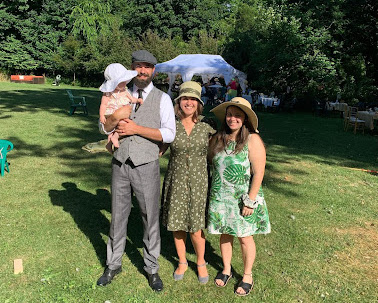 I started getting ready with her bedroom.  We have turned our guest bedroom into her bedroom. Through our daily conversations I knew that her favorite color was purple. I picked up a new sheet set that is purple in color. When she stepped into her bedroom she was very happy that I remembered her favorite color! You know what they say 'happy au pair, happy kids' 
I also wanted to prepare a little welcome basket for her with some cookies, chocolates, face masks, couple toiletries such as toothbrush, tooth paste, and deodorant. Check out my Welcome Basket list to make the shopping part easier for you!
During the first 3 days of her arrival, we showed her around the town, let her shadow us for the baby's routine. We have been trying to give her some space and time to adjust to our and her new life here in the United states and we are including her in our family events and activities. We already went to the our first party together!
We are very excited for a new chapter of our life and I am looking forward to sharing our amazing journey with you!