Creating Cards for Hospitalized Kids
The Southern California/Arizona Cluster kept a yearly May tradition of making cards for hospitalized kids. Having missed last year due to the Pandemic, we moved our card making party online. We made cards while talking about how we were doing and our plans for summer travel with our host family's or on our own.
Some of the Au Pairs are going to do this activity with their kids and mail off their cards to be distributed to hospitalized kids. 
"My experience as an Au Pair has taught me a lot about myself. I live at the beach and love it. I learned to swim at the beach from my host family. I will be sad when my time is over as an Au Pair."
– Ofelia from Mexico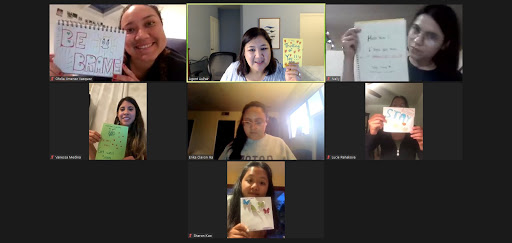 Cards for Hospitalized Kids
Cards for Hospitalized Kids(CFHK) is an internationally recognized charitable organization that spreads hope, joy & magic to hospitalized kids across America through uplifting, handmade cards.
Anyone can get involved with us, from anywhere. Individuals and groups across the United States, and world, donate time and creativity to make handmade cards and send them to us for distribution in hospitals and Ronald McDonald Houses across the nation.