Exclusive Spanish Language Enhancement Available Now!
Through our exclusive relationship with Renzulli Learning, we are delighted to announce that we have made further enhancements to the award-winning educational program that will benefit our au pairs, host families, and international partners.
Renzulli Learning's Spanish Language partner, The Universidad Internacional de La Rioja (UNIR), has translated the entire Renzulli Learning platform to Spanish. UNIR has also added thousands of Spanish language activities to the system, which students worldwide can enjoy.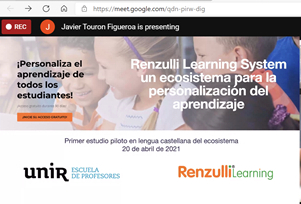 The Renzulli Learning system has been incorporated into Agent Au Pair's training program and our au pairs are taught how to leverage host children strengths and interests to increase engagement in learning. As many of our candidates are from Spanish speaking countries, having the Renzulli Learning platform and related training courses in Spanish, will help our au pairs to better comprehend the Renzulli pedagogy and its benefits. We are also delighted to offer experiential program opportunities to UNIR students, as they may wish to become au pairs in the United States.
Renzulli Learning and Agent Au Pair would like to thank the UNIR team, led by Javier Tourón, the Vicerrector de Innovación y Desarrollo Educativo and his amazing team for their contribution to Renzulli Learning, as it will benefit students and teachers worldwide.