Once in a Lifetime Experience
The US Air Force Thunderbirds planned to fly over San Diego in support of our health care workers and the Red Tide/bioluminescence waves on the Pacific Ocean were current topics in San Diego.  I told the Au pairs and host families before the monthly meeting that if they were able to see either of these things, it could be a once in a lifetime event. 
At our video chat, we were able to talk and share with others what we had seen. Even though we were not physically with each other,  it felt special to know we had seen and experienced the same thing. We also shared pictures of what we had been eating, our masks, self hair cuts,  and the first thing we were going to do when the quarantine was lifted. Lily was the envy as she was video chatting by the poolside!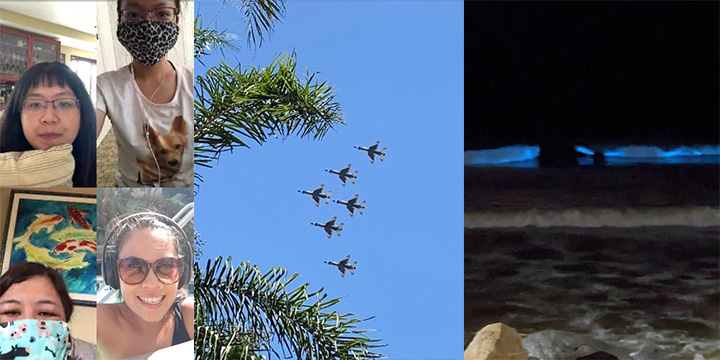 "The beaches were closed so I saw the bioluminescent through the car window. I had heard about the red tides before but it's my first time seeing it. It looked magical and very pretty. There was a funky smell in the air though due to the algae. I'm glad I got to see it and share my experience at the monthly meeting."