My Au Pair Experience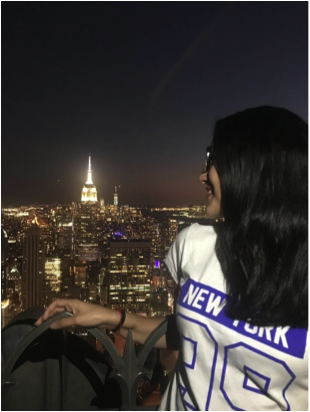 Hello! My name is Rosa from Paraguay and I am currently on my 10th month as an au pair. I'm living in a suburb, 35 minutes from the city that never sleeps. Since I matched with my family I was thrilled by the idea of coming to New York, of course all the movies that I have watched helped me a lot with my expectations. My family made me feel part of the family since day one. I have never thought that I would feel so welcomed and cared. My host kids and I already made some unforgettable experiences that will remain in my heart and mind forever.
The au pair experience helps you with your personal development. As an au pair you are responsible of yourself. You are away of your family and sometimes it can be difficult. Nevertheless, if you see it as a time where you can grow up as a person everything seems better. From taking the train to go to the city, cooking and trying recipes from tutorials and traveling by airplane alone (a thing that I was not used to do at all) and most importantly being able to enjoy things on your own (go for coffee, movies, shopping alone). These activities can be normal, but believed me it is different when you are all by yourself.
Don't worry! Of course you meet new people! My advice: talk to everyone. I met so many au pairs in these months that I cannot count them with my fingers. The key is to talk to most of them and see if you are going to get along with them. For example I met my best friend through a playdate that we arranged for our host dogs. With her I met 2 more awesome girls from Germany and, yeah, we have lots of memories already. One of the things that I am really grateful for is that I have met these awesome girls.
As I come from a really tropical country, the most amazing thing that I have experienced here was the snow. New York in winter time is A W E S O M E. If you have the chance to come I will recommend you to do it during Christmas time. You can see all the lights, the Rockefeller tree, snow everywhere, and really nice outfits. The first time that snowed my host mom was really excited about my reaction so she stayed home only to see how I would react. I remember playing for 2 hours in spite of my frozen hands and toes. I definitely love the snow. It is totally magical.
Thanks to being in the East Coast, flights to Europe are affordable. Of course I didn't miss that opportunity. I went to Italy for my first vacation week. I had the chance to visit Rome, Florence (my favorite), Pisa, Venice and Trento. My host family was really happy for me and they helped me with some details of the trip. It was an amazing chance in life and I am so grateful for having the chance to do it.
The program is not only about traveling, but also studying. I attended some courses at the English Language Institute of Pace University in New York. I took classes that will help me in my academic and professional development. With these classes I completed the educational requirements of the program that I think it is really helpful for au pairs. Having the opportunity to be part of colleges and universities in the US is definitely a chance that not many people have.
I am really grateful for all that the au pair program has given to me. My host parents and my host kids have a place in my heart. I feel as another member of the family since the first day. Moreover, I have also gained friends from different countries and I know that our friendship will last even with distance. There are difficult days, I am not going to lie, but in the end everything is worth it. I would totally recommend this program to boys and girls around the world.
Before coming, my goal was to create a connection with my host kids and help them in their personal growth. Now, ten months later I believe that this connection will last forever. I came here as a girl that wanted to have an intercultural experience and make the most of it while doing something that I love that is working with children. Now, I will leave having a second family in New York and having memories with them and my friends that will remain with me for my entire life. How great is that? Well, let me tell you, it is awesome!!! Thanks for reading! I hope you have a wonderful au pair experience as well! Hugs, Rosa Rossi J