Answering Questions & Supporting One Another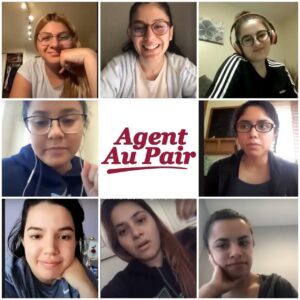 In early April, the Agent Au Pair team hosted an online info session for Au Pairs who are currently in the US to discuss the changes to the program that came with Covid19. We discussed the health insurance plan and what it covers, changes to the educational component, and how to stay safe during this global pandemic.
It was a great opportunity for au pairs to ask questions, and get support for their concerns. We were excited to see that the Au Pairs openly shared their experiences and the difficulties that they are currently facing due to this unique global situation. We were proud that Au Pairs have supported and encourage each other during this virtual meeting.
Due to the great experience, and at the request of the au pairs, we will be hosting info/support sessions on a monthly basis! It's a great opportunity for au pairs to connect with each other. We have seen the benefits of hosting these meetings for the Au Pairs and the way that our Au Pairs, some of which had not spoken since they met at the Training School, connected with each other and supported one another!
Did you miss the session, but want to join the next one? Our next info session is on May 1st!
All au pairs who are currently in country received an email with details on how to join! Didn't receive an email? Email [email protected] for more information on signing up!