Agent Au Pair is an award winning U.S. Department of State Designated Au Pair Program that promotes educational and cultural exchange. We pride ourselves on taking the time to get to know our host families on a personal level, ensuring that our matching is on target for each family's individual needs. Au Pairs provide up to 45 hours of childcare per week for a weekly cost of approximately $375.

Fun Fall Activities!
Are you looking for new festive fall activities to try as the leaves begin to change and the air starts to get cooler? From arts-and-crafts to outdoor exploration, we got you covered all season long!
Click the button below for Fall themed activities for you to try with your host kids. You can even print a downloadable PDF so you can check off the ones you tried! We also have a calendar template that you can print to schedule in "fun time" everyday.
How can you prepare yourself and your family for the arrival of an au pair?
Check out the article in porch.com that features Jodi DiMauro, Agent Au Pair's President, who discusses how you can prepare yourself and your family for the arrival of your au pair.

"I always advise our host families to set their expectations appropriately. The program is incredibly successful when both the au pair and host understand their roles accordingly. I absolutely loved hosting, and I am still very close to most of the 6 au pairs we hosted."
New Orleans is My Second Home
My name is Julieta, from Argentina, and I have been living in the city of jazz and partying for more than a year taking care of two little girls who I think of as my baby sisters. I have come to love the uniqueness of the city. The only thing I knew about this place before coming was what I had seen in the Disney movie "The Princess and the Frog" and it didn't do it justice. This city really doesn't resemble any other in the USA.
Camila is an 18 year old from Ecuador. She speaks Spanish, English, and German. She has experience caring for children between the ages of 10 months through 10 years old. She gained her experience interning at two kindergartens, babysitting, and taking care of her younger family members. In her spare time, Camila enjoys drawing, baking, and horseback riding.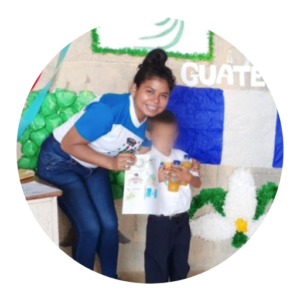 Margareth is a 26 year old from Guatemala. She speaks Spanish and English. She has experience caring for children between the ages of 4 months through 15 years old. She gained her experience working as a kindergarten teacher, a nanny for two families, tutoring, and babysitting. In her spare time, Margareth enjoys crafting, biking, and reading.
These are just two of our featured au pairs! We showcase more available au pairs on our website. We have hundreds of great applicants available for placement.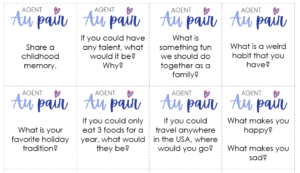 Keeping The Conversation Going
Between our busy schedules and chilly weather out there we haven't been able to do so much together the last couple weeks other than enjoying and learning more about each other during dinner and breakfast conversations by using Family Conversation Cards that Camila received in her welcome bag from Agent Au Pair.
Fall & Pumpkin Season

Autumn is here in NJ and our family has not escaped its charms. Our Au pair choose to go pumpkin picking with his group and bring back a pumpkin for us to carve! It is a first for us all and my 5 year old thoroughly enjoyed scooping out the seeds and making the pumpkin face.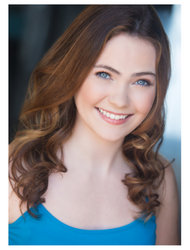 Featured Local Coordinator
Kate Brimmer from New York, NY

Growing up, we had a busy lifestyle with two sisters and two full time working parents! We decided to apply for an Au Pair and it totally changed our lives for the better. Anna, our German Au Pair, quickly became a part of the family and someone to look up to. We still keep in contact to this day and we loved our time with her. This experience made me fall in love with this program and I love having the ability to help others have the amazing experience I had growing up.
Become a Local Coordinator with Agent Au Pair!
We are growing our Local Coordinator Network and are actively seeking individuals who are passionate about cultural exchange to join our team! Local Coordinators work part-time from home; supplementing their income supporting host families and Au Pairs during their program year. They are responsible to ensure the well-being of the exchange visitor as trusted mentors and provide top-notch client services to their host families while upholding program rules and regulations!
Contact Us
Agent Au Pair
837 Whalley Avenue
New Haven, CT 06515